Work at Hale
Join the adventure—we'd love to consider you for a position on our team! Learn more about the types of opportunities we have available.
Our Community
When you work with Hale, you join a diverse team of passionate people who are committed to making a difference. We spark joy and curiosity every day as we help people connect with and learn about the natural environment. If you're an outdoor enthusiast, a lifelong learner, and love inspiring others, a career with Hale is a rewarding way to positively impact your own life and the lives of those around you.
Our year-round and summer opportunities all require highly qualified individuals, and our hiring process is very selective.
Our year-round staff leads and maintains the operations of Hale. From delivering programs to coordinating events to managing our business processes and physical plant, this team leverages its expertise to ensure Hale fulfills its mission. Candidates should be creative critical thinkers, prepared to address challenges with thoughtful solutions.
Casual, contract, and seasonal employees include professional facilitators, camp counselors, lifeguards, and more. These folks are often passionate educators who aim to help kids and adults learn outside traditional settings. Whether you're a high school or college student, a recent grad, a teacher on vacation, or a registered nurse, Hale offers unique opportunities for individuals to put their personal and professional skills to use in the great outdoors.
Permanent Employment Opportunities
Join our year-round team of two dozen professionals. We'd like to hear about your passion for adventure, learning, and serving the community. When roles become available, we look for talented people like you to fill on-site and hybrid positions.
Casual, Contract, and Seasonal Employment Opportunities
Looking to work nights? Weekends? Afternoons now and then, or every day for just a few months? If you're passionate about education, ready to serve as a role model, and committed to safely delivering fun experiences in the great outdoors, we'd like to hear from you.
Perfect for ages 14–21+, these jobs are an opportunity to spend summer in the sun working with campers and families. Whether you'd like to coach kids, mentor teens, guard waterfronts, lead activities, or even landscape, we have a role for you.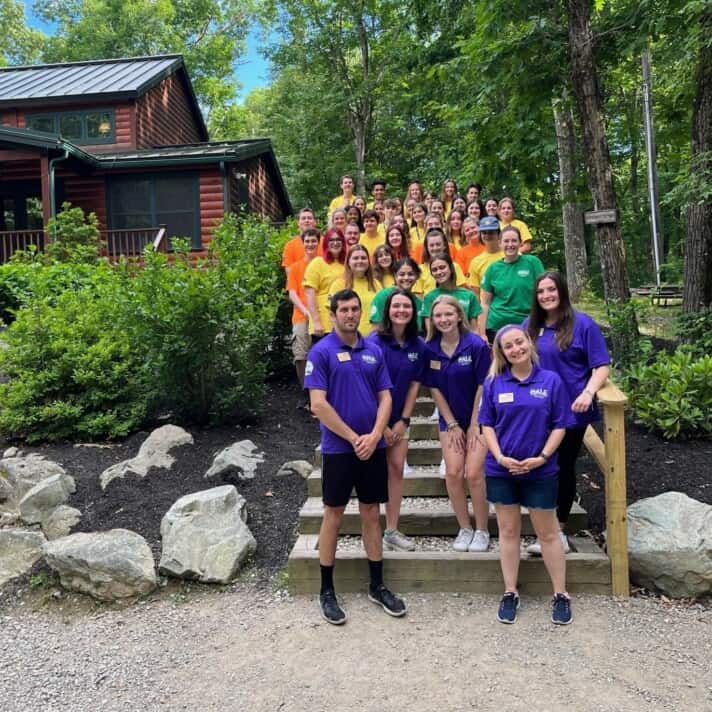 Hale's facilitators come from a wide variety of backgrounds. Some are current or former teachers. Others are retired business professionals. From wilderness therapy to social work, no single path leads to work on our fields, trails, and accredited challenge courses. Use your background in experiential learning to facilitate teambuilding, field trips, and overnights and multi-day programs—at Hale, there are many ways you can help groups learn to achieve goals and reach their potential.
Hale's faculty provides regular instruction through programs such as the Perrone-Sizer Institute for Creative Leadership and lends its expertise to participants in Hale's professional development courses and workshops. Its teachers and practitioners advocate active learning methods and interdisciplinary expertise.
I've been a counselor for 3 years, and camp has taught me to appreciate the outdoors and the people around me. I've created memories and long-lasting friends, and can't wait for this summer.
I love the community. The staff truly care about their work and make a positive impact on youth and each other, and our diversity adds to the overall joy that is Hale.
Hale offers the opportunity to not just learn about oneself but to learn and engage with a diverse range of people. I learned that communication is key with kids and co-workers.
Working at Hale allows employees to explore their interests. The atmosphere is always positive and it's so fun that it doesn't feel like a job.
Being part of these children's lives and encouraging their love of nature and learning was such a privilege, and making special connections made it one of the most rewarding experiences of my life.
After working a summer at Hale, I feel like I have gained teambuilding, communication, and problem-solving skills, as well as another family that I can always return to and friends I'll always remember.
FAQs
For some positions, yes—but we also provide pathways and support to secure them. For example, our staff members regularly train and certify new lifeguards and challenge course facilitators. We also offer Wilderness First Aid certification through one of our Youth Leadership Development Programs. There are many ways to get the training and credentials you need to work at Hale, so don't hesitate to apply if you don't have them yet!
If you apply for a permanent employment opportunity, you'll be considered for the specific role you expressed interest in. Casual, contract, and seasonal opportunities span multiple programs, and you may or may not be able to select the specific program you would like to work in. Fortunately, all programs need passionate and motivated staff members, so you can expect to use your skills and gain valuable experience no matter what!
The camp industry has long provided what are now known as the "21st century" skills required for life-long success:
Critical Thinking & Problem Solving
Creativity & Innovation
Communication & Collaboration
These skills, along with many others, are developed while working with us, and they're all transferrable to other career paths.
An Equal Opportunity Employer
Hale is proud to be an Equal Opportunity Employer and does not discriminate on the basis of race, color, religion, sex, pregnancy, gender identity, national origin, political affiliation, sexual orientation, marital status, disability, genetic information, age, membership in an employee organization, retaliation, parental status, military service, or other non-merit factors. We are committed to a work environment in which our diverse cultures, perspectives, skills, backgrounds, and experiences are welcomed and respected.
Learn More and Apply
Your skills and passion can make a difference. Explore current openings.